Gas CoC Compliance Certificate
A Gas CoC issued by a registered gas installer is required for any permanent gas installation.
What is a Gas Installation Certificate of Compliance (Gas CoC)?
It's a piece of paper signed by a registered installer attesting to the fact that he or she has checked your gas installation and found it to be compliant with current rules. A Gas CoC must currently be obtained from a carbon-copy Gas CoC book provided by the gas safety organization. There are no electronic Gas CoCs.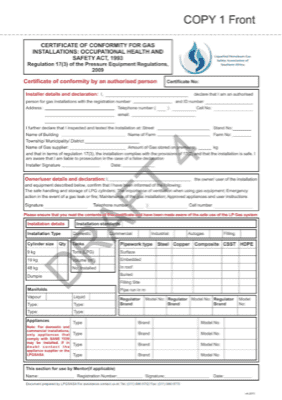 How do a get a new Gas COC?
All you need is an installation that does not break any of the rules. Then you need a licensed installer who certifies that the installation is legal.
How much time does it take?
Minutes if the installation is compliant. If not, it depends on what's wrong with it, but most of the time, it's just a single visit to fix the problem before we sign. So it may be anything from a few hours to a few days. In most cases, less than two days are required.
Please assist me in obtaining a temporary Gas CoC.
There isn't such a thing; our industry isn't that advanced. However, we can give a certificate for an installation that is still being serviced but that we are confident will become compliant.
When do you need a Gas Certificate?
Because of the rising expense of electricity, many South Africans are opting for gas connections in their homes. There are, however, precise restrictions that homeowners must follow when installing gas equipment in their houses in order to maintain the validity of their insurance coverage.
All gas installations must have a Certificate of Compliance (Gas CoC) pursuant to the Pressure Equipment Regulations established under the Occupation Health and Safety Act (No 85 of 1993), effectively confirming that the installation has been fully inspected and judged to be safe and leak free.
A Gas Certificate of Conformity must be provided by an authorized person who is registered with the Liquefied Petroleum Gas Safety Association of Southern Africa for each home owner who has a liquid gas system placed in their home, according to the rule (LPGAS). It is the responsibility of the homeowners, not the installation, to ensure that they have this certificate. If a malfunctioning gas appliance caused property damage to a homeowner, the insurance company would be entirely within their rights to deny a claim in the absence of a valid gas certificate.
It's also crucial for homeowners to understand that if they want to sell their property and have a gas appliance installed, they must obtain a gas certificate and provide a copy to the new buyer. Gas fires or braais, gas stoves and ovens, and hot water systems are all examples of gas installations that require this certificate. It is critical for all homeowners to understand that such an inspection is required not only for their insurance policy to remain valid, but also to verify that the installation is safe and their family is not endangered. If a gas appliance is fitted wrongly and a gas leak occurs, it can have serious health consequences for a household, not to mention the tremendous danger of an explosion.
What is the price of a Gas Compliance Certificate?
The overall cost of a Gas Compliance Certificate, like the other Gas CoC Certificates, cannot be established until the Gas Inspection is completed.
The gas inspector, on the other hand, can tell you how much the Gas Inspection will cost – in other words, what their inspection fees are.
They will know whether any remedial work is required after they have completed the Gas Inspection. A new gas certificate should be granted to you at no additional charge over and above the initial gas inspection price if your gas system is compliant and no further rectifications are necessary.
If corrective work is required to bring your gas system up to code, the homeowner should get a thorough report on the work needed and a cost estimate.
During a gas inspection, what is looked at?
Certain items must be compliant, or made compliant, before the Compliance Certificate can be issued, as with all other Compliance Certificates. We can't list the complete regulation book here due to space constraints, but we can present some of the most important items.
Because gas is a potentially explosive chemical, completing a leak test to guarantee that the gas installation is leak-free is a top priority. It's critical to utilize SABS-approved equipment, the correct valves, and to avoid putting equipment in dangerous places, as shown in the examples below.
Gas bottles must be at least 1 meter away from any window or door.
Gas bottles must be at least 2 meters away from any gully.
The gas bottle can be placed immediately next to the tap if it does not have a gully underneath it.
Gas bottles must be at least 5 meters away from a power outlet.
Outside gas bottle size – 2 x 48kg maximum
Inside the gas bottle, the maximum weight is 9 kg, and it must be ventilated if it is kept in a cupboard.
If properly fitted, a gas bottle near to a braai or fire area is permitted.
In a garage, no gas bottles are allowed.
Under a gas hop or in the same compartment, no switch socket outlets are permitted.
The gas bottle must be at least 1 meter away from any doors or windows.
The distance between the gas bottle and the drains and air vents must be at least 2 meters.
The gas bottle must be at least 3 meters below the windows (unless a non-combustible roof is installed).
The distance between the gas bottle and the property boundary wall must be greater than one meter (unless it is a fire wall).
A gas container cannot be less than 1.5 meters away from a light bulb.
Only class 1 or 2 copper pipes, or other permitted gas piping, may be used in gas installations (Note: This is not the same copper piping as used by plumbers).
Copper pipes that pass through a wall must be insulated.
Flexible gas hoses must not exceed two meters in length and must not pass through any partitions (including wood, dry wall, cupboard wall etc).
This is not a comprehensive list.
The following are some helpful gas safety precautions provided by LPGAS:
Always utilize a competent gas dealer and a registered gas installer.
Always use a gas that has been validated and tested.
Always double-check that the seal on a gas cylinder matches the cylinder's brand, and always inspect gas appliances before using them.
What does the Gas Certificate NOT cover?
There are limits to what the inspector and the seller are responsible for in order for a Compliance Certificate to be issued, as there are with all Compliance Certificates.
The inspector is only allowed to inspect according to the regulations in effect at the time of the inspection. It's vital to note that issuing a Compliance Certificate differs significantly from "servicing, updating, or restoring" a Gas Installation. (It's similar to the difference between being roadworthy and servicing or restoring a car.)
The inspector report is not concerned with non-compliance issues such as: Portable, temporary gas equipment, such as portable BBQ's, Patio Heaters, and interior heaters are not covered by the Gas Compliance Certificate. These objects are usually not included in the property transaction and will be removed by the seller.
Gas cylinders should be replaced if they do not appear to be fresh new.
re-filling gas bottles that have been emptied
If shifting gas bottles to a more aesthetically acceptable location is not possible, the inspector will leave them where they are.
Installing larger gas bottles is not recommended; if the maximum allowable amount is exceeded, the inspector may remove or replace them with smaller bottles.
The gas certificate does not cover the actual gas equipment, such as the stove, heater, braai, hop, or geyser, as the inspection is limited to the gas installation alone.
The Gas Certificate's legal criteria.
The Occupational Health and Safety Act also included Pressure Equipment Regulations (effective October 2009), which moved gas appliances placed in homes closer to electrical installations.
A gas compliance certificate is required for gas appliances installed in homes. Certificates are necessary for gas installations such as built-in gas fireplaces or braais, gas stoves, hot water systems, and the like.
Anyone installing a liquid gas appliance at a property must obtain a Certificate of Conformity issued in relation of that appliance as of October 1, 2009. Only an authorized individual registered with the Liquefied Petroleum Gas Safety Association of Southern Africa (LPGAS) can issue the certificate after inspecting the installation and determining that it is safe and leak-free. Built-in gas fireplaces or braais, gas stoves, hot water systems, and other gas installations would all require certificates of conformity. Furthermore, according to Regulation 17(3) of the Pressure Equipment Regulations, a certificate is necessary following any installation, alteration, modification, or change of ownership of property, implying that a certificate must be in place or granted upon the transfer of a property. The parties cannot contract out of it; it is necessary for all properties with a gas installation, whether the owner lives there, rents it out, or it is vacant or remains empty for the most of the year.
The Gas Certificate's Validity
On October 1, 2009, Regulation 17(3) of the Pressure Equipment Regulations, promulgated under the Occupational Health and Safety Act 85 of 1993, took effect, making it mandatory to get a gas compliance certificate when a property is sold.
It should be noted that it makes no difference if the gas appliance was installed before to October 1, 2009; the certificate is still necessary.
Unlike the Electrical Compliance Certificate, there is no analogous legislation governing the term of a gas compliance certificate's validity period. As a result, regardless of how old the present certificate is, it is suggested that one be obtained when the property is sold.
How do you go about getting a Gas Certificate?
Are you thinking about selling your house? If you have gas appliances in your house, you will almost certainly need a Gas Certificate.
The request for a Gas Inspection can be made by you, your Estate Agent, or even your Transferring Attorney.
An yearly inspection of your gas installations by a licensed gas installer is suggested.